Send Inquiry
Taper Lock Pulley Manufacturer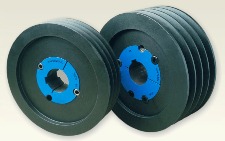 Taper Lock Pulley Manufacturer
Taper Lock Pulley Manufacturer
Manufacturer & Exporter of Taper Lock Pulleys. Our product range also comprises of Industrial Coupling, Coupling and Gear Coupling,sprockets,pulleys,roller chains.
Covering sizes of pulley for Z/ SPZ, A/SPA, B/SPB, C/SPC.
Pitch diameter from 50mm to 1250mm.
Single groove to multiple of 12 grooves. SPZ 0050X01 TO SPZ 0630X10
SPA 0063X01 TO SPA 0800X10
SPB 0100X01 TO SPB 1250X10
SPC 0200X01 TO SPC 1250X10
8V-12.5"-4G TO 8V-53.0"-10G
D-12"-3G TO D-58"-12G
More grooves and bigger diameter taper-Bushing Pulleys available on request.
We have variety of Taper lock pulley apart for your easy changeability of pulleys with minimum
maintenance cost to your product. We do range of taper lock pulley starting from A, B, C & Z Section :-
Taper Lock Pulley "A" Section [From 1 Groove to 5 Groove]
Size in PCD [mm.]
80 mm., 85 mm., 90 mm., 95 mm., 100 mm., 106mm., 112 mm., 118 mm., 125 mm., 132 mm., 140 mm., 150 mm., 160 mm., 180 mm., 200 mm., 250 mm., 315 mm., 400 mm., 500 mm., 630 mm,
·Dual Duty grooves to perfectly match Classical V and Spacesaver Wedge belts
·Standard range caters to drives up to 200 Kw with speed ratios upto 1:7
·Shelf to shaft 'Taper Lock' bushes
·Over 470 standard sizes to cater to wide range of requirements
·Custom-built large pulleys in solid or split construction for higher Power Transmission
Size in PCD [mm.]